Think Strategically
and communicate
powerfully
WORKING AT FORCE
Combine your passion for creating scientific solutions and delighting clients while making a difference in the lives of patients. Join our team of experts with your ability to simultaneously understand complex scientific data and express them in simple, human terms. Explore current career opportunities and help us bring science to life.
Let's make a difference together.
FORCE CULTURE
We are fiercely proud of our organizational culture, which embraces drive, curiosity, passion, genuine care, professionalism, adaptability, collaboration, and respect.

"I think the culture at FORCE is top notch and have felt that way from day one. People enjoy working for FORCE, and the people appreciate one another." – Current FORCE employee

To learn more about our culture, visit our LinkedIn page here.
Benefits
FORCE offers competitive benefits packages to all full-time employees, including comprehensive health plans, employee assistance, a 401(k) plan, generous PTO and paid holidays, paid parental/family leave, and paid volunteer time. Remote work opportunities are available for most positions.
FUN AND INCLUSIVE ENVIRONMENT
FORCE recognizes the importance of relaxing and celebrating our successes together, even in our new remote working environment. We offer employees the opportunity to share their passion for helping others through company-wide philanthropic projects and encourage volunteerism with paid service time each year.
TEAMING AND CONNECTION
FORCE has mastered the extraordinary teaming demanded by the precise, ever-evolving nature of our work. We provide ongoing training and tools to support this effort. Proactive measures support learning, development, coaching, and goals, as well as recognition for a job well done.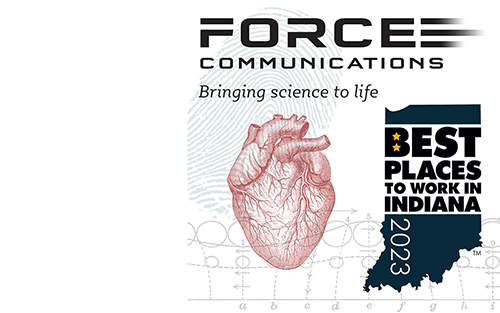 FORCE Communications is excited to be named one of the 2023 Best Places to Work in Indiana in the Small Employer category by the Indiana Chamber of Commerce. The work we do through our three operating divisions, DRIVE, PROPEL, and MOMENTUM, is rewarding as we help support "Bringing Science to Life" for our pharma, biotech, and device clients. We celebrate working with awesome teammates in an environment that fosters creativity and collaboration to help healthcare professionals improve the lives of patients around the world.